Having fun finding eggs and putting them in the basket.
As the title suggests, every kid is asked this very question every year and I think it's part of the problem for parents. Our kids are still young so it's not a big deal but once they start comparing Easter baskets with cousins and friends, things could get tricky. I won't worry about it until they are older but I am kind of dreading this. I'd love some advice from experienced mommies on how to handle this. I suppose it's an issue for every holiday but I feel like Easter expectations have changed since I was a child. I think it's great if parents want to give lots of little gifts for Easter and I also think it's fine not to. I am just not sure that kids understand why there's a difference in what the Easter Bunny or even Santa Claus brings. Oops..tangent! Back to Easter...
Our Easter was pretty much under control this year. The kids got a couple things but we didn't go too crazy with gifts or treats. I took a couple photos of Connor's little basket although we somehow missed Aleena's until it was Easter egg hunting time. I think the Easter Egg hunt is my favourite part of Easter and something we didn't do when I was younger. I got into doing Easter egg hunts when I lived in Taiwan and worked at an American English school. We used to hide eggs and take our students to Cheng Ching Lake for a huge Easter egg hunt. I really think this is more of an American tradition than a Canadian one. Regardless, it's a lot of fun and a great way for kids to burn off some of that Easter candy. That was also the time I learned all sorts of Easter songs like Here Comes Peter Cottontail.
In the end, we got Connor a small chocolate rabbit (yet to be eaten..probably by Mom and Dad), a set of Curious George books and his first box of washable markers. Aleena received her first colouring books with large wax crayons which she proceeded to eat..not sure what I was thinking when I gave her those. I also gave her the Blu Ray version of Bambi and plan on buying more of the Disney movies as they become available. I am already prepping the kids for a future trip to Disney World. It's way more fun when they know the characters and stories so they can relate to everything.
Here are a few photos from our Easter this year. I always wish we had taken more but then we get busy with everything and forget unfortunately.
Aleena with Great Grandma
Aleena and her favourite past time..hair pulling!
The only "Eastery" photo of Aleena on her first Easter and I focused on the bowl of eggs..oops!
Aleena all dressed up for Easter...off goes the headband!
Connor was on a mission to collect the eggs.
Thanks to Uncle Curt, Connor "found" each egg about six times each.
Connor colouring with his new washable markers on Easter morning.
For those of you looking for some amazing Easter basket inspiration, I wanted to share my friend Amanda's version of Easter baskets. Her blog is called
A Modest Mama
although I'm not so sure how "modest" her Easter baskets are. They sure are impressive though! Thanks to Amanda for letting me post photos of her Easter creations here. The first photo is from a previous year and the second photo shows this year's baskets for her two daughters.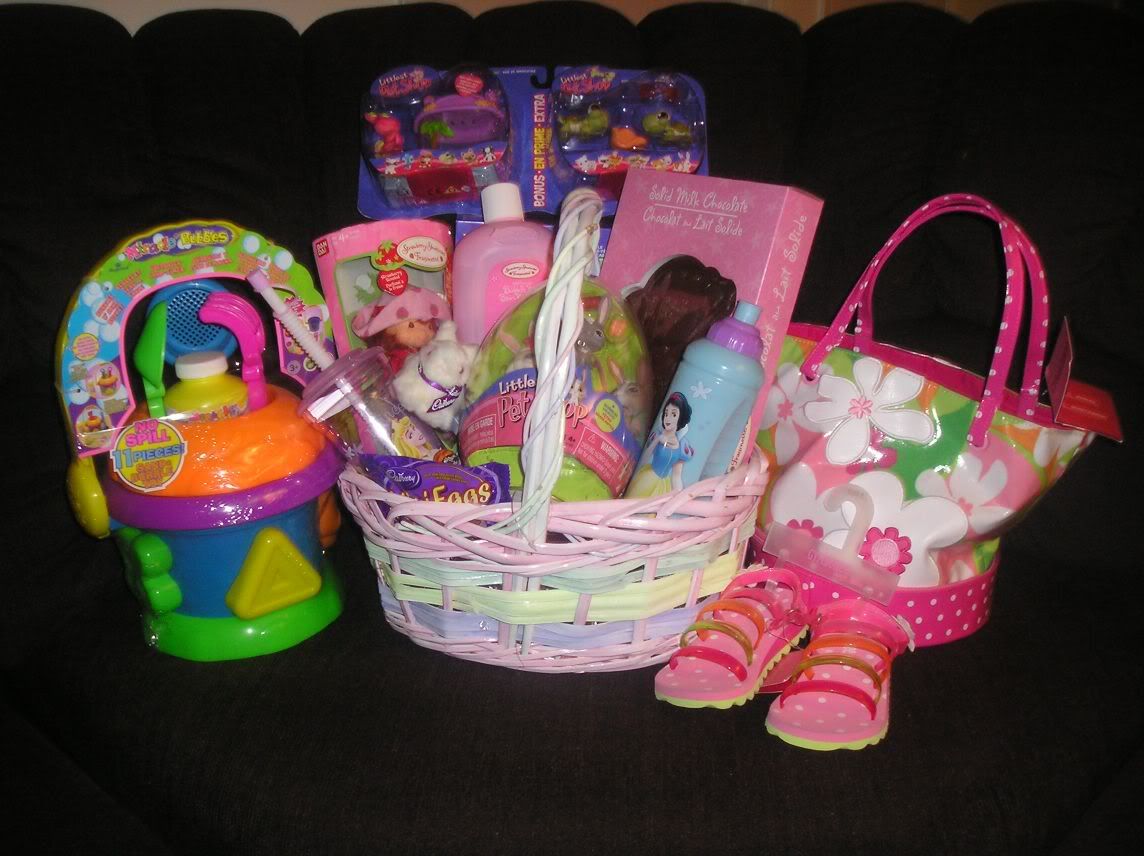 ---
Just a reminder for anyone in Regina, Calgary, Edmonton or Lethbridge that Taryn Laine Photography is giving away two free photo sessions on my blog. You can read the post with all the details if you click on her logo below. The contest is open until May 2nd..aka as Election Day..aka as my first day back at work. I'll somehow find time to announce the two winners that evening. :-P